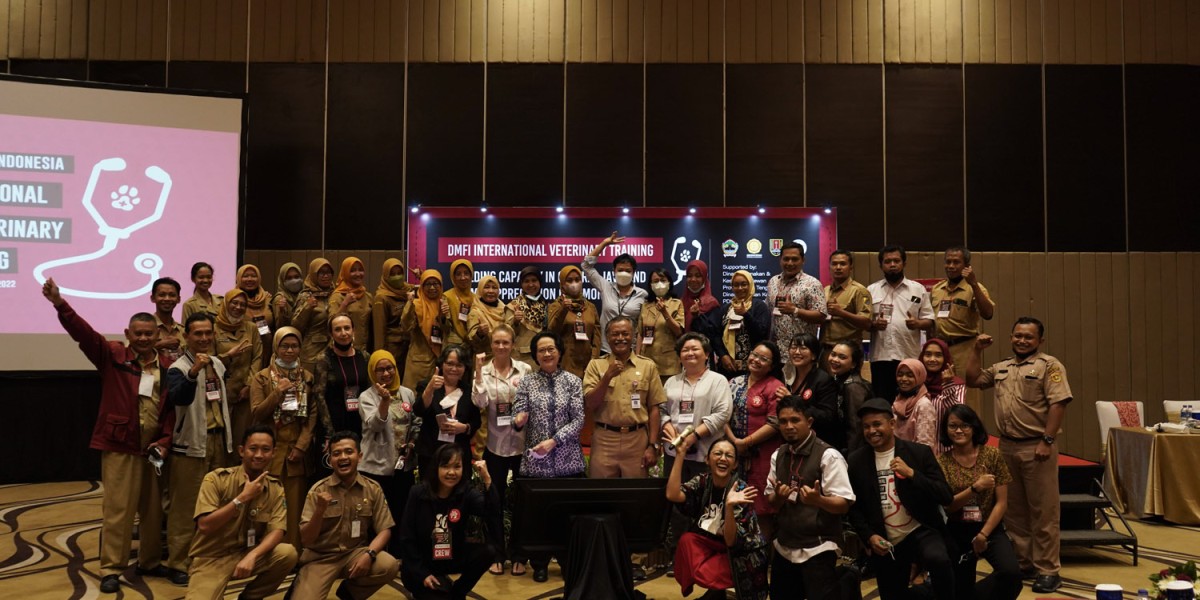 International veterinary experts and leaders join forces to host first-ever province-wide veterinary training to support efforts to control Foot & Mouth Disease outbreak and end the dog meat trade
0ver 80 veterinarians, as well as over 300 online participants from throughout Central Java participated in the first-ever province-wide veterinary training co-hosted by the Dog Meat Free Indonesia (DMFI) coalition and the Department of Animal Health and Husbandry of Central Java Province to help support efforts and end the dog meat trade.
With renowned veterinary experts including Drh. Wiwiek Bagja, recognized as the pioneer of animal welfare in Indonesia, Rrh. Siti Komariah, Head of the Indonesian Small Animal Veterinarian Association, as well as veterinary and animal welfare experts from around the world participating, the DMFI is proud to play a key role in enhancing animal welfare principles for veterinarians from throughout the province of Central Java.
The DMFI has worked closely with the provincial government of Central Java since 2019 to ensure a holistic approach is adopted in tackling the dog meat trade that continues to plague many parts of Indonesia, threatening human health and public safety, as well as causing immeasurable animal suffering. As a result, Central Java is pioneering actions against the dog meat trade, with Governor Ganjar leading calls for action.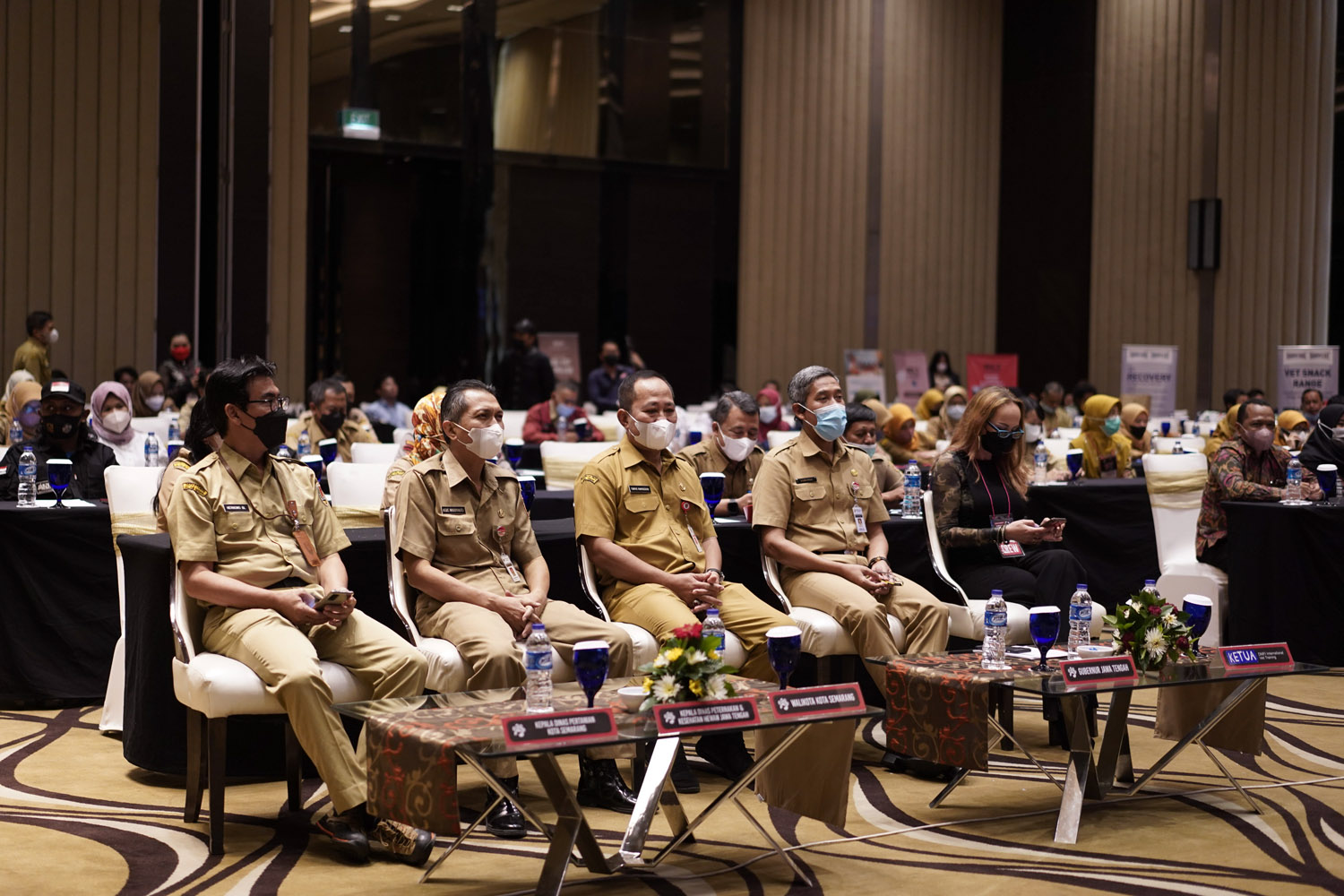 Drh. Wiwiek: "The veterinary community and DMFI are key allies in our shared commitment to promoting holistic approaches to tackling the dog meat trade. Ensuring veterinarians are receiving best-practice training from world-renowned experts is key, given their role in educating their communities and providing best possible care for the animals for whom we are responsible."
In addition to vital training, the event also saw cities and regencies being awarded by the DMFI for taking action to prohibit the dog meat trade in their jurisdictions.
As Karin Franken, DMFI national coordinator and founder of member group Jakarta Animal Aid Network explains: "Over recent years we have seen groundbreaking actions being taken by the authorities from throughout Central Java to eradicate the dog meat trade, including 17 cities and regencies passing explicit regulations prohibiting the dog meat trade from throughout their jurisdictions, and successfully prosecuting dog meat traffickers in first-of-their-kind cases. These are huge steps forward in safeguarding the province's communities from deadly diseases such as rabies that we know are transmitted through the dog meat trade, as well as sending a clear message that dogs are not food, but rather companion animals worthy of protection from such cruel, dangerous and profit-driven trades".
Dog meat trade facts:
2021 DMFI-commissioned opinion polls conducted by Nielsen revealed that:

82% of Central Javans believe that "The high rate of dog meat trade and slaughter of dogs is a problem that needs immediate attention in my area"
89% stated they will stop eating dog meat if banned.
88% of Indonesians "believe all dogs deserve care and protection".
93% of Indonesian support a ban on the dog meat trade



There are widely publicised reports directly linking the dog meat trade to rabies transmission in many parts of Asia where the dog meat trade operates, including Indonesia. Scientific reports have documented rabies-positive dogs being sold and slaughtered in markets in Indonesia, as well as in restaurants and slaughterhouses in China and Viet Nam.
Dog theft for the meat trade is a serious problem in Indonesia. Dog Meat Free Indonesia has interviewed many residents who have described their terrifying ordeal with armed traders stealing their pets at night. Despite the obvious law-breaking, thefts are rarely taken seriously by law enforcement, so the thieves often go unpunished.
Across Asia, opposition to the dog and cat meat trades is increasing, with an ever-growing number of countries and territories (Taiwan, Hong Kong, the Philippines, Thailand and two major cities in mainland China) banning the trade in and slaughter, sale and consumption of dogs. In September 2021, South Korea's President Moon Jae-in suggested it could be time to consider a dog meat ban, and a government-initiated task force is currently considering the issue. President Elect Yoon Suk-yeol has also stated he would not oppose a dog meat ban provided there is social consensus.
The Dog Meat Free Indonesia campaign comprises Humane Society International, Animals Asia, FOUR PAWS, Animal Friends Jogja and Jakarta Animal Aid Network. Their campaign has received support from global and Indonesian superstars including a letter to President Joko Widodo in 2018 calling for action to end the country's dog and cat meat trades signed by Simon Cowell, Sophia Latjuba, Yeslin Wang, Nadia Mulya, Lawrence Enzela, Cameron Diaz, Chelsea Islan, Ellen DeGeneres and Pierce Brosnan.