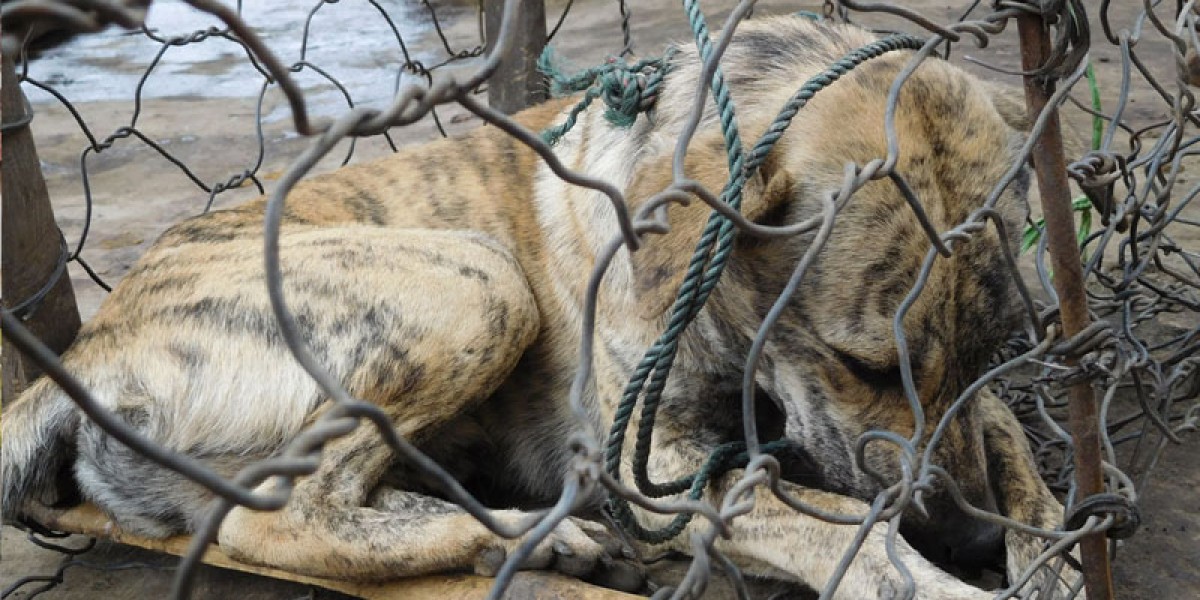 Celebrities Ricky Gervais and Peter Egan join campaigners in calls for Indonesia to close down its Live Animal Markets
As the coronavirus COVID-19 continues to cause global chaos, sickness and fatalities, and Indonesia reports its first human infections, international and Indonesian celebrities join forces with campaigners from the Dog Meat Free Indonesia coalition to call on the Indonesian government to take action to close its cruel and filthy live animal markets to safeguard human and animal health and welfare.
18th March, Jakarta: Celebrities Ricky Gervais and Peter Egan have joined the Dog Meat Free Indonesia (DMFI) coalition in their calls on President Joko Widodo (Jokowi) to take action to close the country's macabre live animal markets amidst the growing global health crisis.
Whilst the virus is now known to have originated from the Huanan Seafood Wholesale Market in Wuhan, China, where a huge variety of wildlife species were being sold alongside dogs and other domesticated animals destined for human consumption, campaigners warn that these types of gruesome markets are still rife in many parts of the region, including Indonesia.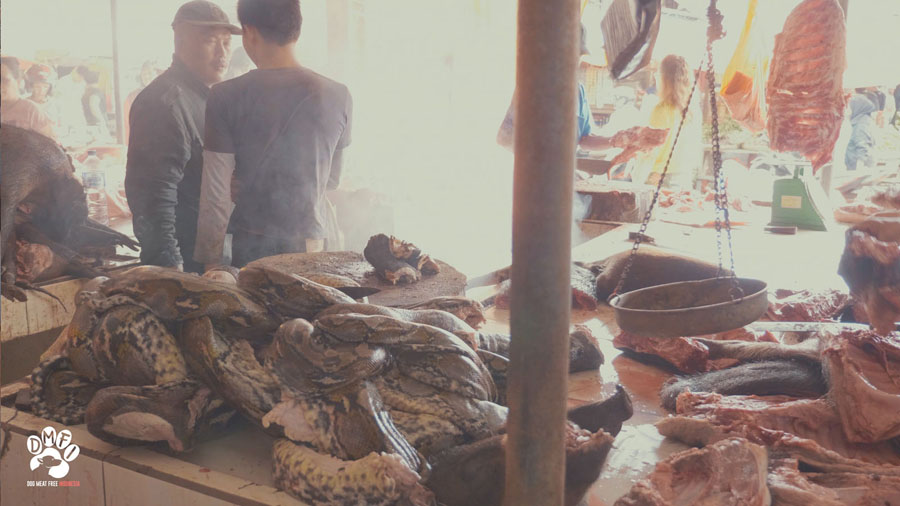 The DMFI's latest campaign supported by international and Indonesian celebrity ambassadors is committed to raising public and political awareness of the unsanitary conditions in these markets, that, together with the contamination risks of having so many animal species caged and killed alongside one another, present the perfect breeding ground for new and deadly diseases. The World Health Organization (WHO) states that 70 per cent of global disease-causing pathogens discovered in the past 50 years came from animals, and COVID-19 is no different.
In the video released by the DMFI coalition today, actor and comedian Ricky Gervais warns, "It's not the first time a terrible disease has started because of people eating things they shouldn't. I mean this one comes from eating pangolins. Pangolins! Stop eating everything that moves! It's going to kill us all!."
DMFI campaign Ambassadors, Ricky Gervais and Peter Egan, voice their support for the Dog Meat Free Indonesia campaign to close the cruel live animal markets. Special thanks to Orange Planet Productions.
Campaigners warned President Jokowi in an open letter in January of the grave dangers of the country's live animal markets and unregulated trade in wildlife, and called for "preventative and proactive measures to make sure Indonesia is not the next point of origin of a deadly virus." The authorities in Indonesia are finally starting to feel the pressure after announcing the country's first cases of the deadly disease on the 2nd March, with the numbers of infections on the archipelago steadily rising in the world's fourth most populous country, and with the French Prime Minister calling it the "biggest health crisis in a century".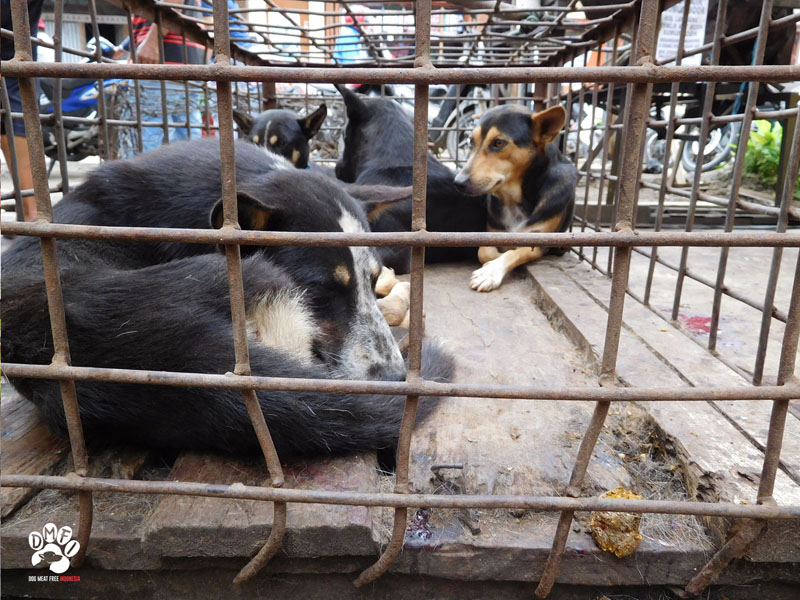 Other countries affected by the deadly outbreak have already started to adopt landmark measures to tackle the source of the virus. Following a temporary ban in January, on the 24th February, China approved a landmark proposal which prohibits "the illegal wildlife trade, abolishes the bad habit of overconsumption of wildlife, and effectively protects the lives and health of the people"; and on the 26th February, China's fifth largest city, Shenzhen, proposed legislation with the additional measure of a city-wide ban on the consumption of dogs and cats, to reflect the special relationship between people and domesticated companion animals, which it has called the "consensus of all human civilisation". On the 9th March, the Prime Minister Nguyen Xuan Phuc of Vietnam ordered the Ministry of Agriculture and Rural Development to submit a directive for a ban on wildlife trade and consumption by the 1st of April. The DMFI campaigners hope that Indonesia will follow their example.
"The coronavirus outbreak has not only exposed the huge public health risks associated with live animal markets, it has also shone the global spotlight on the horrors of these animal markets and trades. Finally, governments are realising that they cannot keep these cruel and unregulated trades and practices alive and also keep their citizens safe, and we urge Indonesia to take similar urgent actions. Populations of protected species of wildlife are being decimated, companion animals are being stolen, and every month, tens of thousands of animals are illegally transported into, and slaughtered in, densely populated cities to supply the demand for dog, cat and "exotic" meat," explains Lola Webber, co-founder of Change For Animals Foundation and co-ordinator for the Dog Meat Free Indonesia coalition.
Growing concerns over recent weeks resulted in the Mayor of Tomohon city, home to the infamous "extreme market", ordering an end to the sale of bats and snakes at the market and a request to vendors to also stop trading in other animals including dogs and cats. However, on-the-ground sources say it is "business as usual" with traders remaining defiant. Meanwhile, "GrabFood" became the third national online retail giant to ban all sales of "exotic meats", including dogs, cats, bats, pangolins, crocodiles and turtles, in response to pressure from animal protection groups.
Broll photos and Footage from North Sulawesi markets (copyright to Dog Meat Free Indonesia coalition): https://bit.ly/2PF39WA
Dave Neale, Animal Welfare Director at DMFI coalition member Animals Asia, said: "It shouldn't take a human outbreak of a zoonotic disease to wake people up to the horrors of these brutal and dangerous wet markets. However, I can think of no better tribute to the people who have lost their lives or been impacted by the outbreak than seeing the end of these markets, this trade and the untold suffering and risks that come with them. Hopefully this will create a wave of compassion that will swell around the world and create real change on the ground and in people's hearts and minds. This is the change we will continue working towards."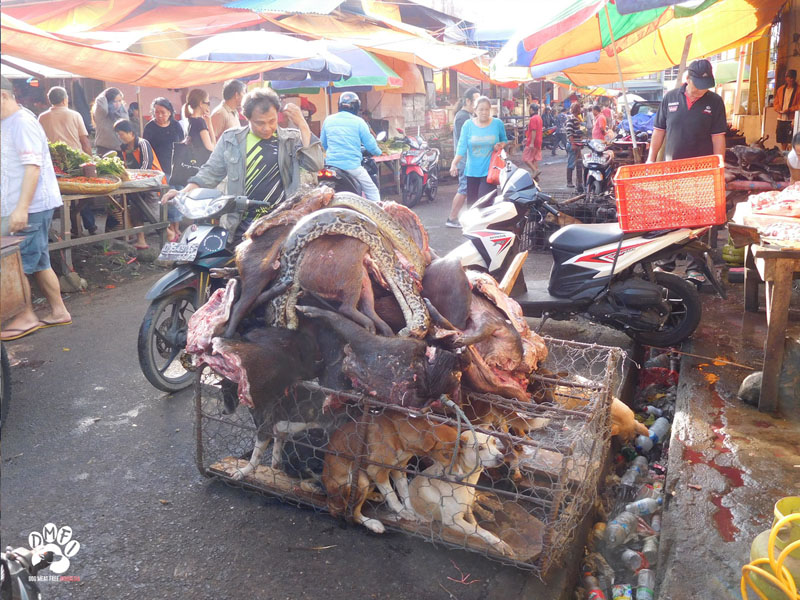 Whilst those operating in markets such as those located throughout some provinces such as North Sulawesi remain defiant, claiming that "exotic meat" is part of their "food culture", campaigners warn that the preferences of a minority are threatening the health and well-being of the majority.
Karin Franken of the DMFI coalition member JAAN, added: "Culture can never be an excuse for cruelty. We know that only a minority of Indonesians consume meat from wildlife and dog and cat meat, yet the trades threaten us all. We are optimistic that the government will take strong and urgent actions to ensure laws are adequately enforced and strengthened to safeguard the health and welfare of Indonesia's people, animals and ecosystems."
In the DMFI video, British actor, Peter Egan, who accompanied DMFI campaigners to North Sulawesi in March 2019 to visit it's markets including Tomohon extreme market, says, "What is so shocking about this is that it is the appetite of a few in South-East Asia that is now impacting on the whole world. The whole world is suffering financially and the whole world is suffering in terms of health. So, Indonesia, is it not time for you to close all of your extreme, unhealthy, shockingly brutal wet markets? Help your people, help the world to be healthy".
Celebrity campaign video (English and Bahasa versions): https://bit.ly/38Z4rmo